autism, autistic, autism books, autism T-shirts, autism information, autistic art
presents -
BILLY'S STORY
A 35 Year Journey Wirh Autism
An Alaskan mother writes about her autistic son
by: MAXINE DE VILBISS

---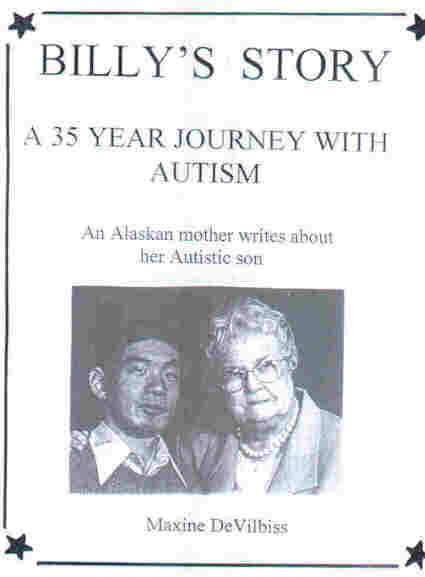 Maxine DeVilbiss is a 75 year old mother of 5 living on a homestead in Alaska. She moved to Alaska from Oregon in 1957, where her husband was a logger and farmer. She has always been interested in writing, and has written several articles, but this is her first book. She has been just too busy through the years. When her oldest son bought her a computer, he asked two things - that she write a story of his brother Billy, and also write a story about their early homesteading days. She is a widow now, but still lives on the farm with Billy.





---

Maxine:

"Billy's Story" is the story of my youngest child, Billy. He was adopted from Korea at the age of two. Billy arrived in sad physical condition, weighing only 12 pounds. Several years later he was diagnosed as autistic. This was 36 years ago, when the only help we were given was the suggestion that we should put him in an institution. This is the story of our struggles to cope without the Early Intervention that is available to parents today. Billy was diagnosed as grossly autistic, and we have had interesting experiences through the years as we struggled at first alone, then seeking help elsewhere, in several different states. This is the story of our striving to help Billy to live as normal a life as possible.

I am getting a lot of response from people that have bought the book. So far from seven States. So far, all are very pleased with the book. I am receiving a lot of e-mail from parents, and I am glad for that. several mention that some of the same things happened to them. All of them mention that once they started the book, they couldn't quit until it was finished. Some said they felt they were right there with me. I have personally been glad for the response, I was afraid people would be disappointed that Billy has not progressed as far as we had hoped he might. One person said that they were glad that I had survived, maybe they could, too!

---
"Billy's Story"

is available for $6.00 plus $2.00 postage from:
Maxine DeVilbiss
HCO4-9302
Palmer, Alaska 99645
907 745 4383
alaskmax@mtaonline.net

THANK YOU!!

---
©2000 Kind Tree Productions, Inc. KindTree@earthling.net
2440 Haig St
Eugene, OR 97402 [ Back to Home Page