Kind Tree Productions, Inc.
and
AUTISM ROCKS
present
A Poster Signing with

PHIL LESH
formerly of the Grateful Dead

---

On Wednesday, July 18, 1999,
Phil Lesh, in Eugene for 2 sold out concerts,
appeared at Chez Ray Restaurant
to sign posters created for the occasion
to benefit children with Autism
by encouraging creative expression
through music, art and education.

Over $4,000.00 was raised!
Everyone had a terrific time.

Below are news articles, photos and an image of the poster,
centered on the Sword, a drawing done by
an autistic 15 year old, Stephen Wing.

If you are interested in a copy of the poster (unsigned)
for only $12.00
please send a check or money order to:
Kind Tree
2440 Haig St.
Eugene, OR 97402

Thanks.

---
---
Grateful Deadhead

Grateful for all those concerts, an emotional Bill Vellon, 47, of Redway, California, presents former Grateful Dead bassist Phil Lesh with a crystal on Wednesday. Lesh signed autographs for several hundred adoring deadheads who gathered in downtown Eugene; he signed posters as a benefit for children with autism. Lesh performed during two nights at the Cuthbert Ampitheater to sold-out crowds as the headline act in the Summer Session '99 concerts.
from the Register Guard, August 19, 1999
---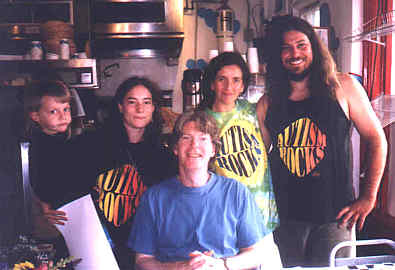 Kind Tree and Phil at Chez Ray's

---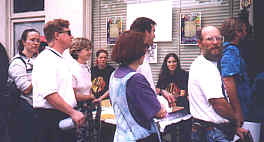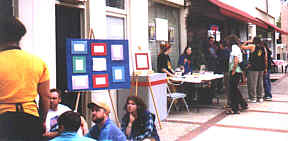 ---

Poster to come - UNDER CONSTRUCTION

---

KindTree@earthling.net
[Back to Home Page

©1999 Kind Tree Productions, Inc.
2440 Haig St.
Eugene, OR 97402
541 688 8134