Community Village Pavillion and Info Booth Project, 2002

Here are images created by the team of volunteers
working on the replacement for our "condemned" Village building,
as well as a bit of other information.
Please direct your comments and/or suggestions to Tim Mueller / GreyWolf Projects.
Volunteers are needed for on-site and pre-fabrication construction,
and for dying and sewing of the fabric (silk?) panels.
Let us know how you can help.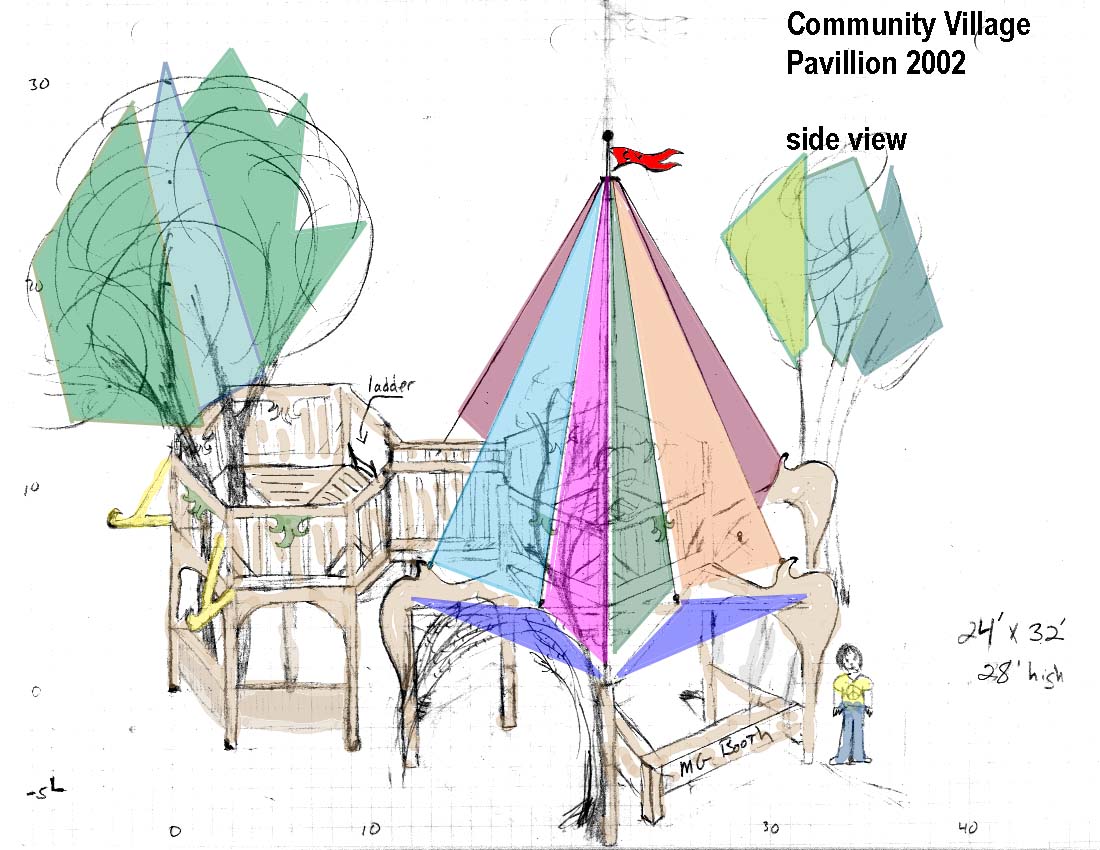 Please note:
Info Booth portion (left) is a 6' on center hexagon with full loft (except for the tree going through it).
House portion is a 6' hexagon inside a larger 12' hexagon, with a 6' hexagon loft,
connected to the info loft by a bridge.
The building's footprint is the same as the present structure.
The house will contain the Master Gardner's Booth,
as well as shady inner gathering space with seating.
Just to the left (and behind) of the figure is a small bleacher-type seating area for viewing the stage.
The colored panels are lenghts of fabric attached kinda like sails.
They will rise 18' above the loft, be dyed different colors, perhaps decorated with designs as well?
Cool.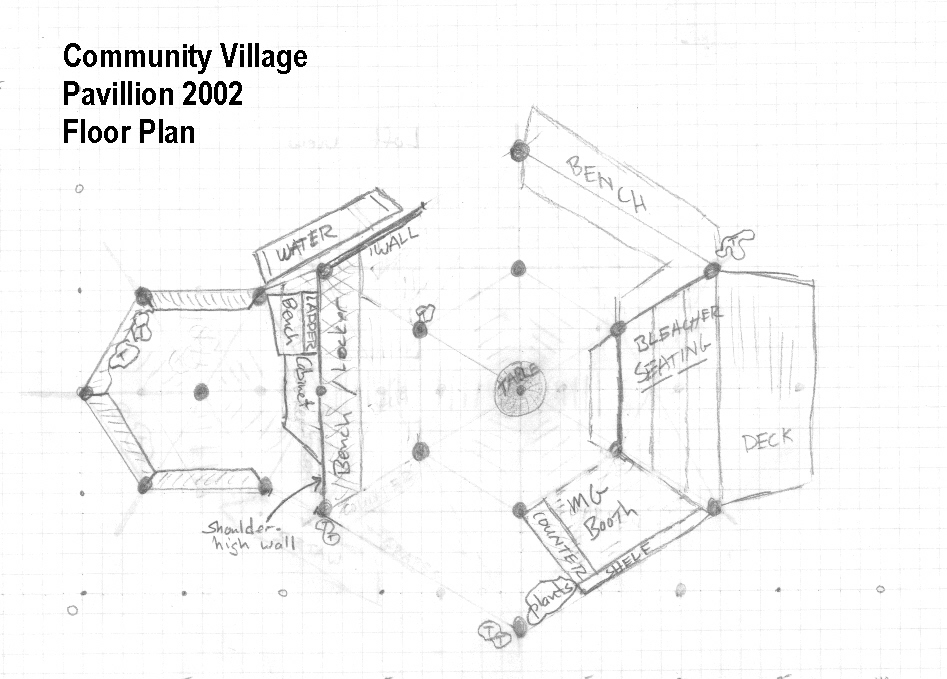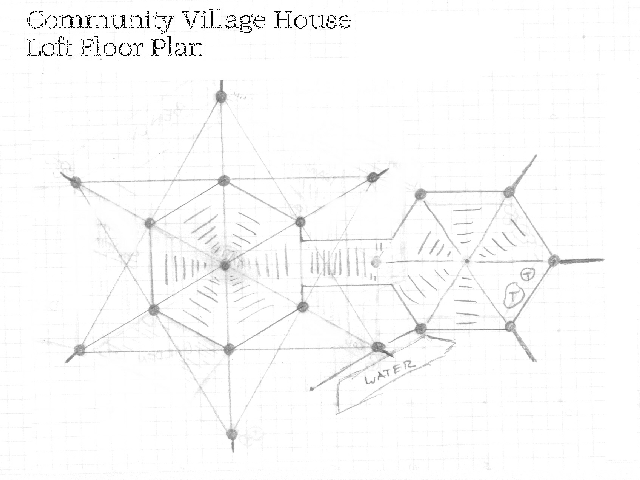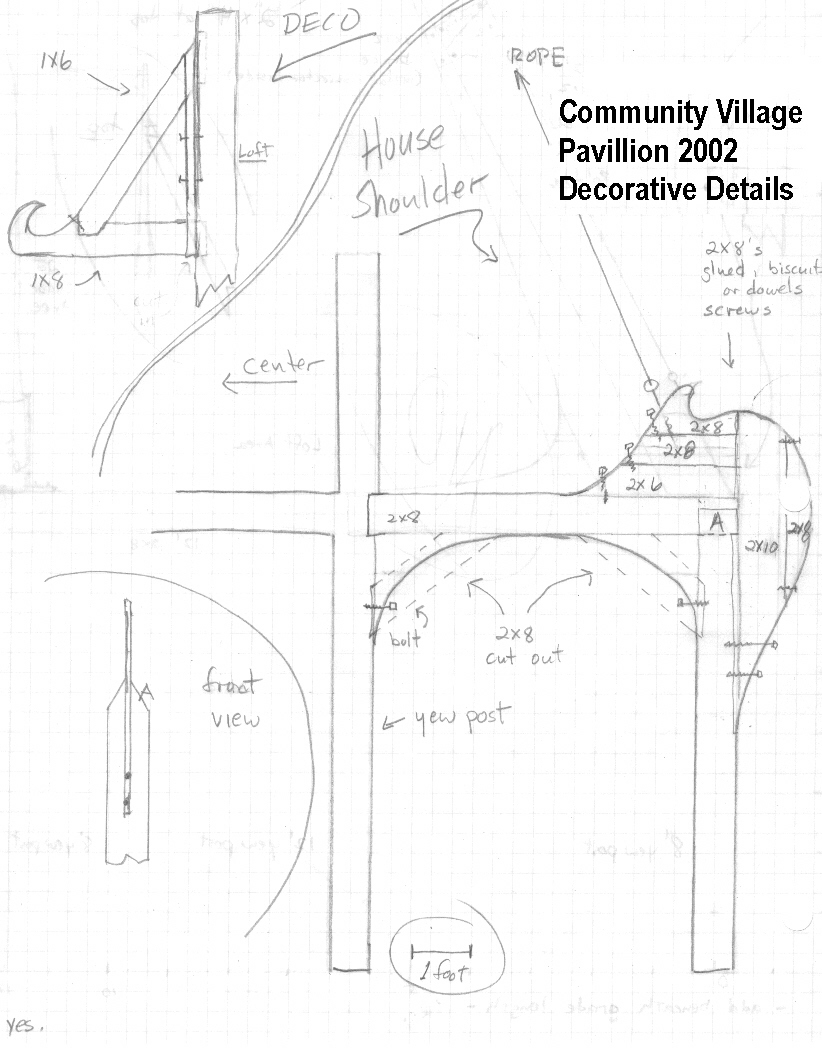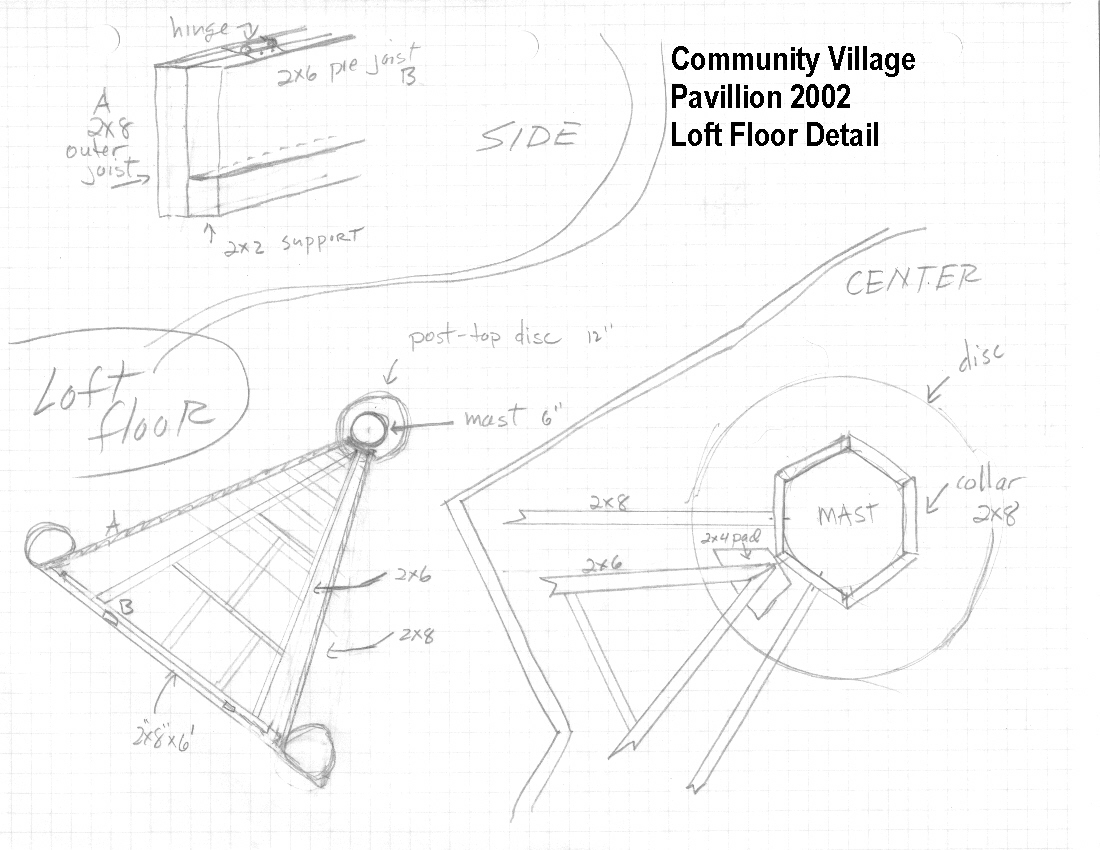 Community Village House and Info Booth
Capital Improvement Project
The Community Village House and Info Booth have been condemned due to structural
deterioration. After considering many options, we, the Community Village Council and
volunteers, decided to submit this project proposal to replace the existing structure with
another very similar, incorporating design improvements and flexibility to meet present and
future needs. It will include floors, counters, and seating areas that will fold up to let light, air
and stream flow do it's natural thing without hurting the booth. It will have easy to replace
parts when damage occurs so that it will be a lasting investment.
We will create a beautiful and dramatic structure drawing people into the Community Village
to enjoy the peace and calm, and to learn from the educational displays offered by our many
nonprofit activist village members. This plan is a vision of a "sun-sailing starship" -
symbolizing our new, high-tech world and it's lesson that the whole earth is one community,
that we are all connected both physically and spiritually, organically and electronically, and
through cyberspace and other technologeis can actualize that connection - a "starship" made of
simple wood - that each of us in our basic humanity creates the community in which we live,
and the simple act of loving the earth is the foundation for all other acts.
The accompanying graphics illustrate our plans for the structure. We will re-use all hardware
and salvageable lumber from the present structure. A material list and cost anyalisis is
attached. We anticipate needing Fair carpenters to help with this major effort.
The Community Village is a core element of the Fair. It's venue for so many progressive and
diverse non-profits is an actualization of the Fair dream. All of us at the Village hope this
project will be enthusiastically supported by the Fair Board.
Thank You.
Community Village Council and Members.