We're here to help people with autism and the autism community.
"Together we can make this work for all of us."
---
---
KIND TREE PRODUCTIONS
Here you can find autism information, autism links, our Kind Tree newsletter, our celebratory "Autism Rocks" T-shirts, reviews of books on autism, creations by autistic artists and poets, autistic events we produce (recreational retreats and educational seminars), and more...
you are the

distinguished visitor to this page.
COME ON IN !
---
kindtree@earthling.net
---
---
Please visit our Sponsors and Contributors:
---
Special Angels Webring rebel-cl@geocities.com
---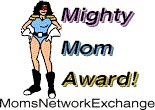 Where Moms Get Connected